Gleaming in gold, the Royal Palace is one of Phnom Penh's most splendid architectural achievements. It is home to His Majesty Preah Bat smdech Preah Norodom Sihanouk and Her Majesty Preah Reach Akka-Mohesey Norodom Monineath. The palace was built in 1866 by His Majeaty Preah Bat Norodom, great grandfather to our current King.
Phnom Penh means Penh's Hill takes its name from the present Wat Phnom (Hill Temple). Legend has it that in 1372, an old nun named Lady Penh went to fetch water in the Tonle Sap and found a dead Koki tree floating down the stream. Inside a hole of the Koki tree were four bronze and one stone Buddha statues.
Nestling in a slim valley shaped by lofty, green mountains and cut by the swift Mekong and Khan rivers, Luang Prabang exudes tranquility and casual grandeur. A tiny mountain kingdom for more than a thousand years and designated a UNESCO World Heritage Site in 1995, Luang Prabang is endowed with a legacy of ancient red-roofed temples and French-Indochinese architecture, not to mention some of the country's most refined cuisine, its richest culture and its most sacred Buddha image, the Pha Bang.
A river excursion to the Pak Ou Caves, 25km north of Luang Prabang at the confluence of the Mekong and Nam Ou rivers, is one of the best quick trips you can make out of the town. Although you can make most of the trip by road, boat is the best way to go even though it does take nearly an hour (or more if the river is low) to make the trip up river.
One of the must-see sightseeing in Luang Prabang is Kuang Si Waterfalls, with a series of crystal-blue pools. The road to the falls winds through hills with spectacular natural views, including terraced rice fields, which make the trip a memorable one. On the way to the waterfalls, there is a Hmong village where the old ladies still wear Hmong traditional costume. It is famous for its hand-woven handicrafts. It's worth to stop by to see the village, its handicrafts or the way of life of the villagers.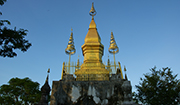 Mount Phousi is the geographical as well as spiritual centre of the town. Believed to have once harboured a powerful naga who dwelt in its bowels, the hill is also seen as a miniature Mount Meru, the Mount Olympus of Hindu-Buddhist. At the base of the long peninsula on which the old town of Luang Prabang is sited is a small hill, just 100 meters (325 feet) high. The sides of the hill, as well as the top, is studded with many small temples and shrines.