Shwesandaw Pagoda was built in A.D. 1057 by King Anawrahta.
Until 1957, the whole structure of this Pagoda was in its original condition — fine bricked in color. But in that year, the pagoda was renovated and plaster covered so it now looks like a modern structure
Shwesandaw Pagoda has five terraces. On the topmost terrace rises a bell-shaped stupa. All four sides have a stairway each leading right up to the fifth terrace.
U Min Thonze Pagoda is one of the most distinctive complexes on the main hill top of Sagaing. U Min means caves and Thonze means thirty .This pagoda comprises of 45 beautiful gilded Buddha images in a crescent-shaped colonnade, partly built into the side of the Sagaing Hill. Each Buddha statue is unique in different sizes & facial expression.
Buddha Cave is located on the Sagaing Hill and a rarely visited attraction. This fascinating complex of tunnels was constructed in 1672 and well preserved. It is famous for its intricate mural paintings depict scenes in Buddha's life. The paintings are vivid with multiple colors such as bright reds, yellows, blues, and turquoise. Do not miss the Buddha footprint on a small ceiling.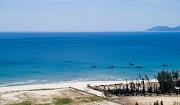 Da Nang has a coastline of 30 kilometres long, famous for many beautiful seashores stretching from the north to the south such as My Khe, Nam O, Xuan Thieu, Thanh Binh, Tien Sa, Son Tra, Bac My An, Non Nuoc. They are calm seas with green water during four seasons, not being polluted with 60% salivation and high safety. With 900 meters in length, My Khe Beach is the most crowded of Da Nang beaches and popular to local people.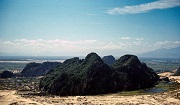 Marble Mountain is the major tourist attraction of the city of Danang, visited annually by more than 1 million tourists. This group of 5 mountains that stand in the center of Danang, whose name is Ngu Hanh are, measuring 2 km long, 800 meters wide and 500 meters in height.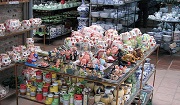 "I wish I could marry you/ I will buy Bat Trang bricks to build our house" are the beautiful folk words honoring Bat Trang ceramic & pottery quality, the pride of northern Vietnam. Bat Trang village is said to be established in 14th or 15th century in several documents. However, according to the villagers, the village perhaps appeared earlier. There are always two stories concerning the village origin.