Wat Xieng Thong is the most historic and enchanting Buddhist monastery in the entire country. It is also called "Temple of the Golden City" - a masterpiece of Buddhist architecture from the sixteen century, impressing visitors with its golden facades and mural paintings. The temple is one of the most important temples in Laos and was used for the highest royal ceremonies and to temporarily house the bodies of deceased kings.
This Temple was built in 1796 with Laotian traditional model. In the entrance of the Temple, magnificent wood carving and gold-leaf murals can be seen on the main pillars and portico entrance to the temple.
Wat Mai served as a temple for the royal family and long has been the residence of the Pra Sangkharat, the patriarch of Lao Buddhism. In 1887 the Haw spared this temple. Historians say it was because they found it too beautiful to destroy. If so they get zero points for consistency given what they did decide to set fire to.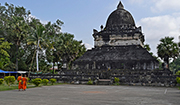 In 1503 King Visounarath built this temple and named it after himself. That is one of the temple's most unique features is its unusually shaped stupa designed by the wife of King Wisunarat to be a lotus flower. The temple strikes visitors with its huge stupa called That Makmo, which in on the temple compound.
The Alms Giving Ceremony is one of the most sacred Buddhist traditions of Laos. In the early morning (around 5.30 AM) Locals start preparing food for the monks, the lay people seek spiritual blessing by way of the monk's acceptance of their offering. From the oldest to the youngest monks come out of the temple in saffron-robed walking along the streets in single file.
A four-sided pillar in a cage between the two monuments bears an inscription consecrating Gubyaukgyi. Myazedi inscription also Yazakumar Inscription or the Gubyaukgyi Inscription, inscribed in 1113, is the oldest surviving stone inscription of the Burmese. "Myazedi" means "jade stupa" ("zedi" being akin to the Pali "cetiya" and Thai "chedi"), and the name of the inscription comes from a pagoda located nearby.
The Gubyaukgyi (Great Painted Cave Temple) built to enshrine the golden image, is a fine temple in the Early Style, square, with a vestibule in the east. The temple is also noted for the paintings, which cover the walls of the vestibule, the corridor and the sanctum. These paintings are among the earliest now extant in Bagan.