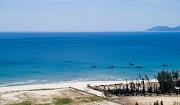 Da Nang has a coastline of 30 kilometres long, famous for many beautiful seashores stretching from the north to the south such as My Khe, Nam O, Xuan Thieu, Thanh Binh, Tien Sa, Son Tra, Bac My An, Non Nuoc. They are calm seas with green water during four seasons, not being polluted with 60% salivation and high safety. With 900 meters in length, My Khe Beach is the most crowded of Da Nang beaches and popular to local people.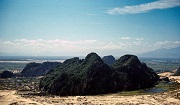 Marble Mountain is the major tourist attraction of the city of Danang, visited annually by more than 1 million tourists. This group of 5 mountains that stand in the center of Danang, whose name is Ngu Hanh are, measuring 2 km long, 800 meters wide and 500 meters in height.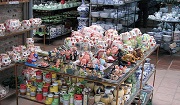 "I wish I could marry you/ I will buy Bat Trang bricks to build our house" are the beautiful folk words honoring Bat Trang ceramic & pottery quality, the pride of northern Vietnam. Bat Trang village is said to be established in 14th or 15th century in several documents. However, according to the villagers, the village perhaps appeared earlier. There are always two stories concerning the village origin.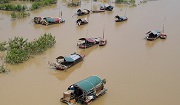 Water puppetry is a form of folk arts originating in the Red River Delta in the north of Vietnam, dating back in the 11th century. Many town and villages in Vietnam have communal ponds that are perfect stages for these impromptu performances, enhancing the widespread development of the art form. Presently, water puppetry is showed in a pool of water with the water surface being the stage.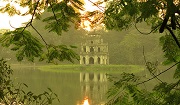 Hoan Kiem Lake lies at the very heart of Hanoi in Vietnam, within the city's storied Old Quarter. So much of Hanoi's past and present is tied up in this scenic body of water. The present-day Hoan Kiem Lake is a popular stop for couples' wedding photos and fitness buffs' morning workouts. And for the past few hundred years, the lake has served as a place of worship and a cradle for legends.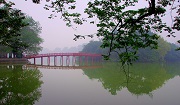 Ngoc Son Temple, or the Temple of the Jade Mountain is one of Hanoi's most picturesque temples. It is built on an islet in Ho Hoan Kiem where, in the 16th-18th centuries, there was a country villa used by the Trinh mandarins when they boated on the lake. In the 19th century, the site became a Buddhist pagoda, then a temple for the cult of a deified Chinese warrior, Quan Cong, and later for the Spirits of Literature and of the Soil.