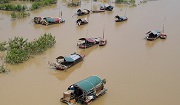 Water puppetry is a form of folk arts originating in the Red River Delta in the north of Vietnam, dating back in the 11th century. Many town and villages in Vietnam have communal ponds that are perfect stages for these impromptu performances, enhancing the widespread development of the art form. Presently, water puppetry is showed in a pool of water with the water surface being the stage.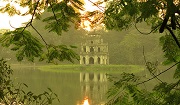 Hoan Kiem Lake lies at the very heart of Hanoi in Vietnam, within the city's storied Old Quarter. So much of Hanoi's past and present is tied up in this scenic body of water. The present-day Hoan Kiem Lake is a popular stop for couples' wedding photos and fitness buffs' morning workouts. And for the past few hundred years, the lake has served as a place of worship and a cradle for legends.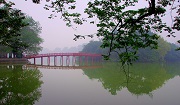 Ngoc Son Temple, or the Temple of the Jade Mountain is one of Hanoi's most picturesque temples. It is built on an islet in Ho Hoan Kiem where, in the 16th-18th centuries, there was a country villa used by the Trinh mandarins when they boated on the lake. In the 19th century, the site became a Buddhist pagoda, then a temple for the cult of a deified Chinese warrior, Quan Cong, and later for the Spirits of Literature and of the Soil.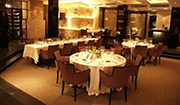 1911
1 Trang Tien Street, Hoan Kiem District, Hanoi
Tel: (84 4) 3933 4801
Cuisine: International / Vietnamese
Capacity: 200 persons (Indoor & outdoor)
Service time: Lunch 1100 – 1400; Dinner 1800 – 2200
The museum is located at 36 Ly Thuong Kiet, Hanoi. The museum displays rather recent history of women, such as women and ethnicity; women and the national struggle; Vietnam women association and the feminism; women and traditional costumes; and women's cultural traits expressed through handicrafts.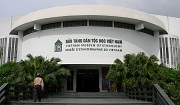 This is the most recent yet probably the largest and undoubtedly the most interesting Museums in Hanoi and Vietnam. The Museum comes out of the recognition that Vietnam is a multi-ethnic country and that more attention should be paid to promote socio-cultural diversity. Despite being out of the way compared with other museums in Hanoi, Vietnam Museum of Ethnology is worth a thorough visit, for those who are keen to learn about the multi culturally of Vietnam and for those who would appreciate some green space.