Phaung Daw Oo Pagoda is a notable Buddhist site in Myanmar. It located in Ywama and is an important religious site in the Shan State. The pagoda was believed to be built by King Alaungsithu of Bagan. King Alaungsithu reigned from A.D 1112-1167, one of the longest rulers of Bagan Dynasty.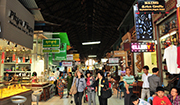 Bogyoke Aung San Market which former name is Scott Market, is the most popular market of Yangon and Myanmar as well. It was built and inaugurated in 1926. The market is a square type based and therefore divided into the East wing, West wing, North wing and South wing.
The Shwedagon Pagoda is a repository of the best in Myanmar heritage – architecture, sculpture and arts. It is also the most sacred and impressive Buddhist site for the Myanmar people. Located west of the Royal Lake on Singuttara Hill, the Pagoda nowadays stands close to 110 meters. It is clearly one of the wonders of the religious world.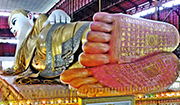 Chauk Htat Gyi Pagoda is located on Shwe Gon Taing Road. Tamwe Township. Yangon. The pagoda is famous for its huge image of Reclining Buddha built in 1966 that replacing the old image built in 1907 by Sir Hpo Thar. Over years, it was suffered damage due to climate and was demolished in 1957. In 1966, they rebuilt it to this structure. It measures 65 meters and is housed in an iron structure with corrugated iron sheets roof of six layers.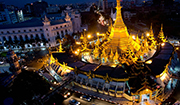 The Sule Pagoda is located in the center of downtown Yangon, taking an important part in Myanmar politics, ideology and geography. Rebuilt in the 1880s, the golden pagoda was used by the British as the nucleus of their grid pattern for the city. Its height is 152 feet (about 48 meters).
Nan Paya Temple is one of four Bagan monuments built of sandstones.
The architectural structure of Nan Paya Pagoda is unique. The inner walls were built of baked bricks whereas the outer walls were built of sandstones. It was built on the palace site where King Manuha, king of Thaton had resided. It is traditionally said that the king's great grandson Naga Tha-man built Nan Paya Pagoda. The date of its building was guessed either late A. D. 11th century or early A. D. 12th century.