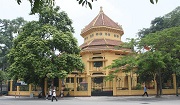 Vietnam History Museum lies silently on the back of the renowned Hanoi Opera House, at No.1 Pham Ngu Lao Street, Hoan Kiem District. This museum was built in 1926 under the name Louis Finot Museum by the Ecole Française d'Extreme-Orient and finish in 1932. After being taken over by Vietnamese Government, the museum changed its official name to Museum of Vietnam History and opened to the public on 3 September 1958.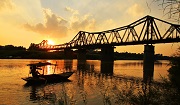 The Long Bien Bridge was constructed from 1989 to 1902 during French's occupation of the country. Though the bridge was designed by French, it was built directly by Vietnamese workers with indigenous construction materials like woods from Phu Tho, Yen Bai, Thanh Hoa province, cement from Hai Phong, Long Tho lime from Hue.
Hoa Lo Prison relic is located in the heart of Hanoi. It is built in 1896 by French on the land of Phu Khanh village. The French occupied Hanoi in order to detain Vietnamese patriots who opposed their rule. They built one prison in 1896 in the middle of Hanoi and occupy all area of Phu Khanh Village to built prisons. Hoa Lo prison has the area of 12.908 m2, which is the most ancient architecture of Indochina.
Hoian Eco-tour
Hoian Eco-tour is local family-run tour that shows travelers about how Vietnamese people live, work and eat. Founder of Hoian Eco-tour, Jack Tran, founded Hoian Eco-tour with the vision of creating a sustainable business that would preserve and promote both Vietnamese environment and strong social and cultural values.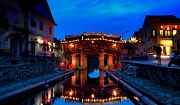 Japanese Covered Bridge
The Japanese Covered Bridge in Hoi An is one of the famous tourist attractions in this charming town. The original Vietnamese name of this bridge is "Lai Vien Kieu". The word can be interpreted as "Pagoda in Japan". It is considered that the Japanese Covered Bridge is a possession of the Japanese community of Hoi An.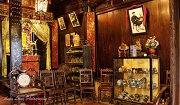 Tan ky Old House
The name Old House of Tan Ky itself suggests that the building is one of the remotest historical buildings in Hoi An. The age of the old house is approximately a couple of centuries. The old house reflects the combination of both Japanese and Chinese architectural geniuses. So while visiting the small town Hoi An, in Vietnam, you must also visit this Old House of Tan Ky to encounter great historical and cultural significance of Vietnam.