No street better embodies six decades of change in Saigon than Dong Khoi St. Its three different names are markers for each phase in its history. During French colonial times it was the Rue Catinat. During South Vietnam's short war plagued existence as a nation, it was Tu Do or Freedom St. When the communists took over in 1975, the name changed again - this time to Dong Khoi (Total Revolution) St.
Ben Thanh Market is a large marketplace in central Ho Chi Minh City, Vietnam in District 1. The market is one of the earliest surviving structures in Saigon and one of symbols of city, popular with tourists seeking local handicrafts, textiles, ao dai (traditional dress) and souvenirs, as well as local cuisine.
Halong Bay (Vịnh Hạ Long)
Halong Bay is located in the northeast corner of Viet Nam, 175 km from Ha Noi; in the Province of Quang Ninh. Halong Bay covers an area of 1,553 km2 with 1,969 islands, of which 90% are limestone islands. The name Halong Bay is literally translated as "Bay of Descending Dragons". A legend has been handed down in the local area relating to the name Halong Bay.
The Saigon City Hall is one of the famous landmarks of Ho Chi Minh City and is now well-known as the People's Committee Building. The building was built from 1902 to 1908 and put into use in 1909 as a hotel whose original name was Hotel de Ville de Saigon. It was designed by Femand Gardes's, a famous French architecture. In the brief span of time between 1954 and 1975 it was renamed the City Hall of Saigon. Since 1975 the building has been called the Ho Chi Minh City People's Committee Building.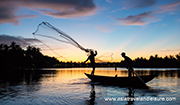 Hoi An General Information
Hoi An Old Town is located 30km south of Danang City, and 60km northeast of Tam Ky. Hoi An used to be an international trade center by sea on the east area in the 16th and 17th centuries. It was the busiest trading port in Dang Trong region of Vietnam during the reign of Nguyen as merchants from Japan, China, Portugal, Spain, Holland etc. often stopped over to exchange and purchase commodities. Good to give some ideas what commodities being traded here during the period.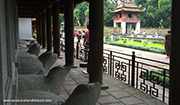 The Temple of Literature considered the country's first national university. The temple was built in 1070 at the time of Ly King. It is one of several temples in Vietnam which are dedicated to Confucius, sages and scholars. The Temple is located to the south of Thang Long Citadel or 2 km from downtown of Hanoi. The various pavilions, halls, statues and stelae of doctors are places where offering ceremonies, study sessions and the strict exams of the Dai Viet took place.