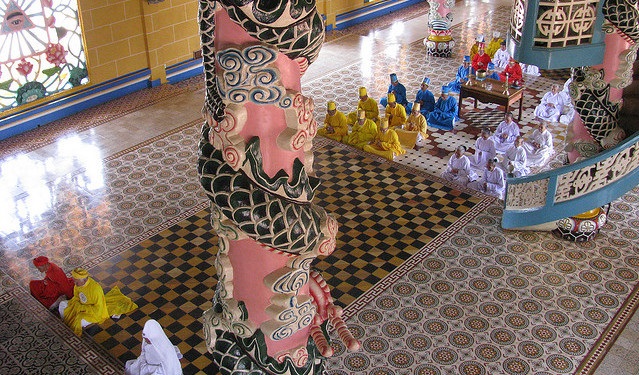 The temple has a "divine eye" at the main entrance that is the official symbol of their religion which is Cao Dai. The temple has other buildings that you can wonder around and see how they sew and weave there traditional garments. The worshipers of Cao Dai are supposed to pray at least every day and everyday there are four sessions that are held in the temple. Once the worshipers have all enter the temple, they face each others in rows from opposing sides.
Men enter from the right side and pray on the right side, on the other hand women enter from the left side and also pray on the left side. During the festivals, everyone that is involve in the ceremony dress from head to toe in white. The three colors you see are red which represents Confucianism, yellow which represents Buddhism and lastly blue which represents Taoism.
There is an orchestra of approximately ten musicians whose music is traditionally Vietnamese. A choir of approximately twenty lead the congregation in the prayers. The music mix of the hymns is very unusual with the blend of Western and Vietnamese.
Note:
Before entering the Temple, you must remember to take off your shoes. You can view the mass on top of the balcony, but you must remember to remain silent at all time.
Before taking any picture it is always wise to ask first, although the Cao Dai do not mind having their pictures taken.
You can combine a visit to Cao Dai temple with Cu Chi tunnels. Visit Cu Chi tunnels in the morning, then drive to Cao Dai intime for the mass at noon.
Location: In Tay Ninh Province – about 100km from Saigon.
Entrance fee: No entrance fee
Open daily except for Tet Holiday
Highlights:
The Cao Dai Temple masses are held at 6am, mid-day, 6pm, and midnight. Although most tourists planning to visit the temple usually arrive for the noon mass. There is a balcony that runs along the walls halfway up. This is where you can watch the service. It is a very nice view.