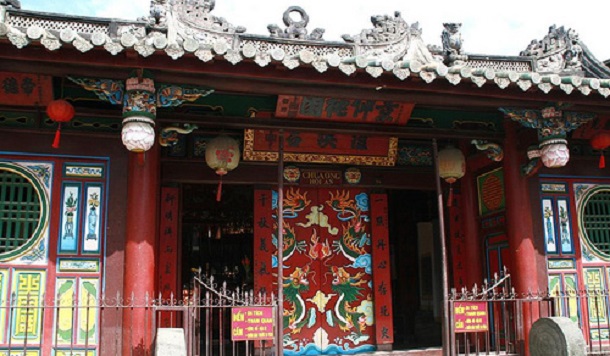 1. Ong Pagoda
The small fishing town of Hoi An situated on the banks of the Thu Bon River, is a quiet place that affords its visitors ample scope for relaxation. The town's other claim to fame is its many pagodas and shrines. One of them is the Ong Pagoda in Hoi An. The Ong Pagoda like most other pagodas in the region is a place engaged in not just a place of worship and meditation, but also a cultural hub, preserving the heritage of the land. The Ong Pagoda is also popularly called the Quan Cong Temple.
Ong Pagoda in Hoi An is located at Tran Phu Street, a typically old and traditional Chinese district. The presence of this 17th century pagoda in such a location indicated towards its heritage. The temple is dedicated to Quan Cong, who was an ancient Chinese general, lived in the time of "Three Warring Kingdoms" (3nd century AD). He was a talented and virtuous general, a symbol of courage, loyalty, piety moderation and righteousness in the feudal time of China. Though restored many times, the temple's original structure has been kept almost the same.
Notes:
Address: 168 Tran Phu street, Hoi An, Quang Nam Province.
Open daily, all year around.
Location: In the heart of Hoi An ancient town. It normally takes 15 minutes to visit it.
Entrance fee: Admission by Hoi An Day-time ticket.
Highlights:
Quan Cong's partially gilt statue, made of papier-mâché on a wooden frame, is on the central altar at the back of the sanctuary. When someone makes an offering to Quan Cong, the caretaker solemnly strikes a bronze bowl that makes a bell-like sound.
On the left of Quan Cong is a statue of General Chau Xuong, one of his guardians, striking a tough-guy pose. On the right is the rather plump administrative mandarin Quan Binh. The left-sized white horse recalls a mount ridden by Quan Cong.
Check out the carp-shaped rain spouts on the roof surrounding the courtyard. The carp is a symbol of patience in Chinese mythology and is popular in Hoi An.
Shoes should be removed when mounting the platform in front of the statue of Quan Cong.