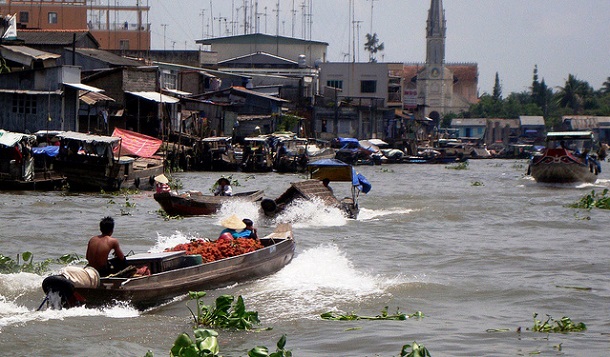 Cai Be is a district in the west of Tien Giang province. Cai Be has total area of 41,000 ha, and a population of 280,000 people living in 24 communes and a capital town of same name. Local economy is mainly based on horticulture and tourism with a great number of fruit orchards. Cai Be has a small Cai Be floating market which is yet to be touristy as the Cai Rang floating market in Can Tho. Cai Be is around 113km (2 hour drive) from Ho Chi Minh City and 50km from My Tho (the capital of Tien Giang. It is in the northern side of My Thuan Bridge, the gate into Vinh Long province and the whole Mekong Delta in general.
Note:
Location: Cai Be is around 113km (2 hour drive) from Ho Chi Minh City
Dress: It is hot all the year around in South of Vietnam so short, T-shirt, sandal is highly recommended.
Travel advisory:
There are many recommended tours for visiting Mekong delta. If you have limit time, you can take a day trip to Mekong delta with Cai Be floating market day trip
Having more time, you can Cai Be for the first day and then stay ovenight in Can Tho. Next day, visit Cai Rang floating market – the biggest floating market in Mekong Delta.
For someone like biking tour, you can take this tour: https://www.travelvietnam.com/vietnam-tours/adventures/biking-mekong-delta-4-days.html which is one of our best selling tours.
Moreover, you can combine Vietnam and Cambodia by visiting Mekong delta in one day, then stay overnight in Chau Doc. The next day, take a speed boat to Phnompenh in the morning.
Highlights:
Cai Be floating market is a small and little visited floating market in Mekong Delta. It is held along the Tan Phong Island at the junction of Tien River in territory of three provinces Tien Giang, Vinh Long and Ben Tre. Every morning, hundreds of boats gather here to trade their local products, mainly fruit, creating a bustling fair. Different from other big floating market in the region, Cai Be is a retail market and it ends around mid-day, so try to visit it early or miss its vibrancy.
There are quite some old houses in Dong Hoa Hiep Commune, Cai Be. Best preserved ones include Ba Duc Old House, Cai Huy Old House and Anh Kiet Old House. They were built in old architecture typical in the region. Some were restored under cooperation program of Vietnamese government and Japanese organization.
Other highlights when visiting this area is listening to the traditional music (or in Vietnamese: Đờn ca tài tử) and see the huge Catholic cathedral on the riverside which you won't see at other floating markets.