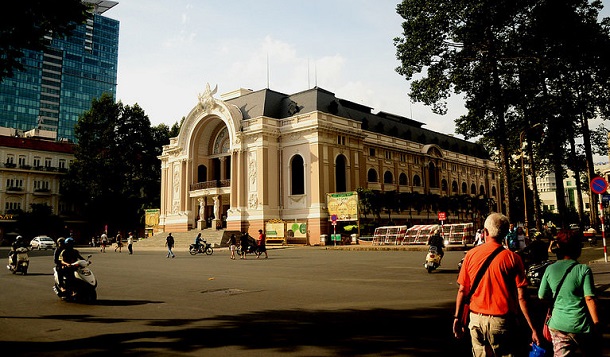 Located at the start of the famous Le Loi Avenue, the building still retails many lively evidences for the influence of French architecture in Vietnam. At the turn of the 20th century, this magnificent building, designed by French architect Ferret Eugene, was built as a classical opera house with 800 seats to entertain French colonists. Anyone who has been to France can recognize many similarities between the Opera House and the Petit Palais. In fact, just like the Reunification Palace, the applied ornament, balustrades, cartouches, and roof were imported directly from France.
After 1956, the house functioned as home of the Lower House Assembly of Southern Vietnam. It's not until 1975 that the opera house was restored to its original purpose of use. Today, the theatre stands at the start of the famous Le Loi Avenue, just adjacent to Hotel Continental and Caravelle, right in the heart of the city.
Notes:
Address: 7 Cong Truong Lam Son, Ben Nghe Ward, District 1, Ho Chi Minh City
Location: in the heart of Ho Chi Minh City's government quarter
Highlights:
The theatre is still in use today, although the schedule has somewhat sporadic offerings. The Opera House plays host to a diverse number of shows, ranging from Vietnamese cultural performances to Shakespearian stage plays. Tourists should go for a performance here if have chances.
Great photo opportunities await travelers who seek out the Saigon Opera House as the building is a fine example of French colonial architecture. Take a seat in the facade and watch the action of Saigon whiz by. The Opera House is surrounded by a wide, tree-lined boulevard and you may need to remind yourself that you are in Ho Chi Minh City, not Paris. The Ho Chi Minh City Ballet Symphony Orchestra and Opera performs here.
Around The Opera House are many new shopping plazas and posh hotels which allow you to combine the trip to the Opera House with a shopping tour.
In the near future, there will be a Ho Chi Minh Metro Rail System Underway which connects Ben Thanh Market & Suoi Tien Park (Line 1). It will run for 19.7 km from Ben Thanh Market, underground for 2.6 km past the Opera House, Ba Son Shipyard and then cross the Saigon River on an elevated track, passing through District 2 on the way to Suoi Tien Park and the terminus in Long Bình in District 9. Line 1 will include 14 stations, with three of these (Ben Thanh, the Opera House and Ba Son) being underground.