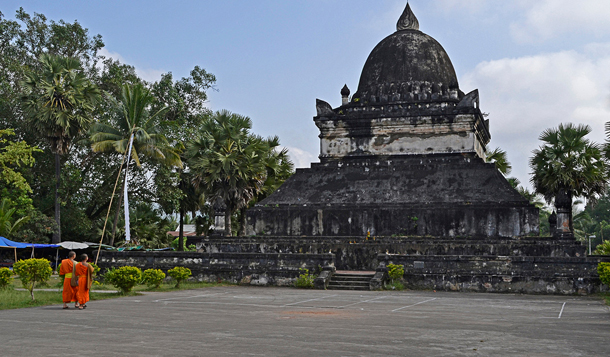 In 1503 King Visounarath built this temple and named it after himself. That is one of the temple's most unique features is its unusually shaped stupa designed by the wife of King Wisunarat to be a lotus flower. The temple strikes visitors with its huge stupa called That Makmo, which in on the temple compound.
Because of its odd shape, this stupa is commonly known as the watermelon (Makmo ) stupa in stead of its official name That Pathum (Lotus Stupa). The stupa originally housed many ancient Buddha images, including the Luang Prabang sacred Emerald Buddha. Many were destroyed during Chinese invasion in 1887 and a number of them are now preserved in the Royal Palace Museum.
This Temple was built on the rice fields and represented the guardian spirits of the City.
Notes:
Address: Thanon Sisavangvong, Luang Prabang, Laos
Open daily, from 08:00-17:00
Location: The temple is located on Wisunarat Road close to the city centre..
Entrance fee: Adult: 20,000Kip = 2,5 dollars.
Highlights:
Visiting Wat Visoun with Tour guide to know deeply about Laos and the King Visounarath.